The United States Navy is working to recover the debris of a Chinese surveillance balloon that fell into the Atlantic Ocean after being shot down off the coast of South Carolina over the weekend.
The balloon, which had been flying at high altitude over North America since the end of January, was shot down in US airspace and fell into US territorial waters, said General Glen VanHerck, commander of the North American Aerospace Defense Command and US Northern Command.
"Our U.S. Navy component is currently conducting recovery operations, with the U.S. Coast Guard assisting in securing the area and maintaining public safety," VanHerck said in a statement on Sunday.
The US said earlier that the balloon was about the size of three school buses and that debris was spread out over 11km (7 miles) of ocean.
Read Also : 'Myst' 2021 remake is heading to iOS devices
The incident has further strained relations between the US and China with Washington cancelling Secretary of State Antony Blinken's planned visit to Beijing after the discovery of the craft.
Beijing has said the uncrewed "airship" was used for meteorological research and was blown off course because of bad weather and its "limited" steering capabilities.
Senior Colonel Tan Kefei, a spokesperson at China's Ministry of National Defense, said on Sunday that shooting down the balloon, which was flying at about 18,300 metres (60,000 ft) before it was shot down, was an "obvious overreaction".
China will reserve the right to take necessary measures in dealing with similar situations, Tan added.
The balloon first entered US airspace in Alaska on January 28 before moving into Canadian airspace on January 30. It then re-entered US airspace over northern Idaho on January 31.
Canada also confirmed the presence of the balloon in its airspace.
Surveillance balloons — typically equipped with high-tech, downward-pointing imaging gear — offer the opportunity to monitor sites at a closer range than satellites and can provide clearer images than fast-moving satellites.
While their movement is often left subject to weather patterns, they can also be equipped with a "guiding apparatus" to control their path.
Read Also : Blinken postpones visit to China because of balloon over US
The US has said the Chinese balloon was flying over sensitive sites in Montana to collect information, and recovering the remnants could provide the US with clues about China's surveillance capabilities.
Montana is home to the Malmstrom Air Force Base, where there are some 150 silos for intercontinental ballistic missiles, including the nuclear-capable Minuteman III.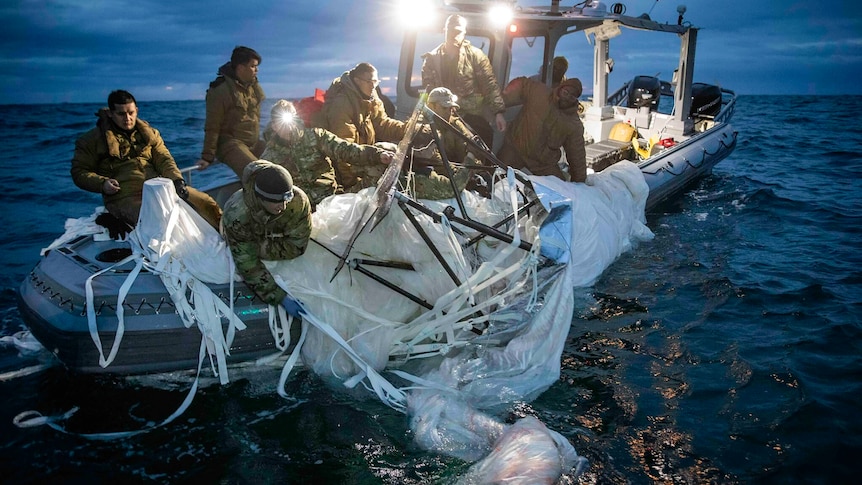 The Senate is due to be briefed on the incident including details of the balloon's surveillance capabilities this week, Senate Majority Leader Chuck Schumer said, adding that the administration of President Joe Biden was considering measures against the Chinese for "their brazen activities".
Read Also : Deadly landslide strikes southern Peru amid heavy rainfall
Republicans in Congress have criticised Biden for not taking action sooner.
The president has said he approved the order to shoot down the craft last week but was advised it would be best to carry out the operation over water because bringing down the balloon over land from an altitude of 18,300 metres (60,000 ft) would pose an undue risk to people below.
"Clearly this was an attempt by China to gather information, to defeat our command and control of our sensitive missile defence and nuclear weapon sites," said Mike Turner, a Republican and chairman of the House Intelligence Committee. "And that certainly is an urgency that this administration does not recognise."
"It defies belief to suggest there was nowhere" between Alaska and the Carolinas where the US could have safely shot down the balloon," said Senate Republican leader Mitch McConnell.